ENGINEERING, PROCUREMENT & CONSTRUCTION
.EPC (Engineering, Procurement & Construction) or EPS (Engineering, Procurement & Supervision) 
Asunim looks for the most suitable solutions for its projects, while taking many factors into consideration: Among others, module and inverter technology, mounting system, cabling and shading options, geological surveying and the inclination of the area. 
Based on these considerations, a detailed project proposal is developed. 
Depending on current cost of electricity, local solar irradiation, and existing financial support PV may already be an economically viable project in your location. Asunim produces a tailor-made economic simulation adjusted to these factors and prepares different studies for various investment models and desired return on investment. 
Asunim is able to obtain the required licenses and certificates from the authorities to turn the system into a reality. Qualified legal advisors specialized in this field are available to assist investors or clients who wish to buy a turnkey solution. 
Where possible, Asunim can provide access to temporary finance solutions for system implementation, such as credit lines, different payment terms, and other project financing channels. 
Project engineering and development activities cover the production of all project documentation necessary to allow the construction of the solar PV plant. 
With rigorous detail, Asunim prepares a design of the plant that is a suitable guideline for the construction plans and schedule. 
Procurement and construction are carried out according to the stipulated parameters for the PV plant and within the existing timeline and cost limits of the project. Long-term partnerships ensure a reliable supply of certified components, ability to fulfill the deadlines, and the option of product quality control via official laboratories. 
Asunim undertakes excavation and flattening construction work according to the project design prior to installation of the selected mounting systems using proper technique and measurements. The project's electricity infrastructure construction work is done in full conformity with national and international standards. 
Commissioning is a way to formalize quality control of installed PV systems, ensuring that they are structurally and electrically safe, robust, and performing. Asunim guarantees that all time, money, and efforts are not wasted on an underperforming system and verifies key points of the PV plant with the latest technology measurement/monitoring devices and software. 
Asunim offers cost-effective operation and maintenance services to keep each system at optimal performance. Preventive maintenance includes calibration, software and system upgrades, thermal scans, inspections, module array and DC electrical inverter maintenance. Unscheduled interventions are performed on site for quick resolution and uninterrupted system performance. 
Consulting and Planning
- Legal, commercial and technical feasibility study
- Optimised system design and combination of all components and systems
- Assessment of soil conditions
- Review of conformity with national state-guaranteed remunerations
- Review of options for feeding into the public grid
Project Development (support)
- Extensive profitability and return assessment
- Initiating and handling of all approvals required
- Review and takeover of projects already under development
- Selection of suitable partners and investors
- Technical coordination with energy suppliers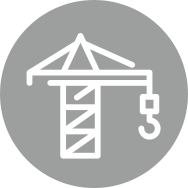 Construction & Implementation
- Management of site preparation
- Coordination and management of all construction work to schedule
- Completion, commissioning and cultivation of compensation areas
ENGINEERING AND PROJECT DEVELOPMENT
Our Customers and partners worldwide; count on Asunim's reliable engineering support and adept fine-tuning of their planned systems. Asunim maintains an advanced engineering department in this sector. With more than 10 years of experience in the PV field, this department currently contributes to multiple international projects diverse in nature, size, and complexity. 
Project engineering and development is achieved using various project-dimensioning tools as well as continually updated climate data for accurate prevision of system performance. 

Asunim is service partner and supports several inverter and solar module manufacturers in after-sales. Several customers have also used our services for independent warranty claims and fast tracking quality controls at internationally recognized test institutes 
The actual engineering experience is the core of the excellence of any PV project. The quality of the end product in the system design process depends on the know-how of the contracted engineers.